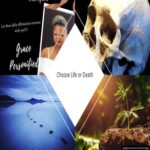 Choose Life or death
Deuteronomy 30: 10-20 tells us of the promises of God. Life and good (prosperity), and death and evil (adversity) are a choice.
Consequently, it is up to the individual to choose. The latter will be in despair, apart from God, because trials and tribulations are always apart of life.
The Choice is Yours
Albeit though I am at a crossroads in my therapy, I realize the importance of continued intimacy with the Holy Spirit.  Of particular note is when the LORD said that obedience to these commandments is neither difficult nor out of our reach.
Nevertheless, I was given the revelation by the Holy Spirit, and it was confirmed by Ms. Gwendolyn (my therapist), that she was here to guide me. The actual work is up to me. The positive outcomes are in my hand.
The Word is Near Us
According to the LORD, this Word is not up in heaven or beyond the sea. It comes from no one else. He reiterates that it is very near. In my mouth and in my heart. So that I may obey it.
Therefore, today and everyday, I choose life!!!
Originally written on February 22, 2022
Schedule Life Coaching Sessions – benevolentwoman.com
---
---
Comments
---