Reproach and Contempt!!!
Written by Agraciouswoman on September 6, 2022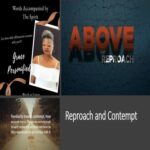 Reproach and Contempt
Take reproach and contempt away from me. For I observe Your testimonies (Psalm 119:22).
Waking up to spend time with the LORD is purifying my soul. Psalm 119 is the longest chapter, and its intricacy speaks volumes of the God we serve. Poetic blessings from and for those who truly seek an intimate relationship with Him with a zealous heart.
This scripture stood out for me because the enemy uses these two characteristics. To keep us confused. Full of pride and conflicting self-hate.
Words are Important. Know Their Meanings
Observe the meaning of each word. According to Merriam-Webster, one of the definitions of reproach is a cause or occasion of blame, discredit, or disgrace. Additionally, the King James Version (KJV) dictionary describes the definition of contempt as follows. The act of despising; the act of viewing, or considering and treating as mean, vile, and worthless; disdain; hatred of what is mean or deemed vile.
Additionally, it is described as one of the strongest expressions of a "mean opinion". In other words, someone's view or judgment of someone or something else.
The Truth Hurts
These are feelings that we have of ourselves and therefore they become relatively easy to project unto others. Accordingly, it is particularly harsh when we feel that this is what our Creator thinks of us. Consequently, that is why this writer pleads with God to take this two-edged sword from him. That kills from within and without.
These attributes are directly contraindicated to our spiritual walk. Hence the ability to build healthy relationships with Him and others.
When we trust the LORD to keep us, we must ask Him to remove this from us. Because there is no condemnation for those who love Christ Jesus.
Know This
This is a guilty, evil, unforgiving spirit(s) from the enemy, which is why God admonishes us to think about whatsoever is true, pure, and of good report. Titus 1:15 states, "To the pure, all things are pure, but to those who are corrupted and do not believe, nothing is pure. In fact, both their minds and consciences are corrupted "(NIV).
So, I adjure you, that His Words are meant to refine and to decontaminate you from the filth of the world. But you must believe that the Spirit can do so. Likewise, anything else is futile.
Meditate on His Word with these pearls of wisdom. This truth will open your spiritual eye to His verifiable intent, empowering you with His grace, love, and mercy. Purify yourselves in His Spirit!!!
Always coming from a place of love.
Originally written on March 21, 2022.
Schedule Life Coaching Sessions – benevolentwoman.com
https://benevolent-woman-4.creator-spring.com
---
---
Comments
---