When You're Anointed, People Will Hate
Written by Agraciouswoman on October 11, 2023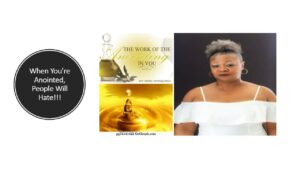 When You're Anointed, People Will Hate
Yesterday as I sat in my car prior to work, the Spirit came upon me strongly. I knew that an attack was coming.
When you are for God, many will be against you. The devil makes a concerted effort to destroy you. Or at least as much as he is allowed to get away with.
As I sit here reading chapter 21 in the book of Acts, I am reinforcing and resetting boundaries in the Spirit.
Spiritual warfare is increasing. At levels more egregious than ever before.
The Thief is Here
I can't stress enough that the devil comes but to kill, steal, and destroy. It is at this time that he is no respecter of persons. He is unbiased in his hate-filled agenda.
Let me start with this. There are times when even the most anointed individuals are given a word through others. Pray for an abundance in discerning the spirits.
I saw a video where a nurse got fired for an incident that happened on the shift that she picked up. The presenter was justifying why she refused to work outside of her normal schedule.
Familiar Spirits Abound
I had also refused to do it in the past and just as she said, because when I did, it didn't turn out well. For me, it is more spiritual.
Being ordained for this I can remain calm in stressful conditions. Knowing that I am surrounded by "familiar spirits".
Many don't hide the evil that works within. And some are cunningly diabolical. Failing to realize that there are sinister forces at work. But many don't care as they are of their father the devil.
I am going to give you a warning and then confirm it. Because you may say, how can we save the lost if we don't go to them.
The stark realization. Many don't want to be helped. While you are compromising your peace and joy. You can't put a price on that.
Heed the Warning
This is how the Spirit brought this full circle for me. Not only by experiencing the pettiness of others. Knowing that these are miserable, fearful, but treacherous beings.
This is them in a nutshell. "But if you have bitter jealousy and selfish ambition in your hearts [envy and strife], do not be arrogant (bragging about it), and [as a result] be in defiance of the truth. (Now here is that truth, pay attention!)
"This [superficial] wisdom is not that which comes from above, but is earthly (secular), natural (unspiritual, sensual), even demonic (devilish).
This is Spiritual Confusion
"For where jealousy and selfish ambition exist (envying and strife), there is disorder [unrest, rebellion, or confusion] and every evil thing (work) and morally degrading practice" (James 3: 14-16, AMP).
And there will always be cowards who will go along with them to appease them. Hoping that they won't be on the receiving end.
This is them in a nutshell. "But as for the cowards (fearful) and unbelieving and abominable [who are devoid of character and personal integrity and practice or tolerate immorality], and murderers, sorcerers, whoremongers, idolators, and occultists (I am going to finish this in the KJV), and all liars, shall have their part in the lake which burneth with fire and brimstone: which is the second death" (Revelation 21: 8).
God Will Not Allow Us to Walk in Darkness
Let me go back to Paul. Because God will warn us, sometimes more than once, in several different ways. It is up to us to receive His grace.
"And as we tarried there many days, there came down from Judea a certain prophet named Agabus. And when he was come unto us, he took Paul's girdle, and bound his own hands and feet, and said, Thus saith the Holy Ghost, So shall the Jews at Jerusalem bind the man that owneth this girdle, and shall deliver him into the hands of the Gentiles" (Acts 21: 11, AMP).
This was not Paul's only warning, which is later proven in scripture. The Holy Spirit told him not to go because they would reject Paul for telling the truth.
This is where intimacy with Christ is expedient. You need to know when you are to avoid a situation. Or when you must walk into that thing trusting God to deliver you!
Fight or Flight!
Pay attention:
1) "Do not enter the path of the wicked, and do not go the way of evil men. Avoid it, do not travel on it; Turn away from it and pass on.
(Are you listening?) For the wicked cannot sleep unless they do evil; and they are deprived of sleep unless they make someone stumble and fall. For they eat the bread of wickedness and drink the wine of violence" (Proverbs 4: 14-17, AMP).
2) "But now thus saith the LORD that created thee, O Jacob, and He that formed thee, O Israel, Fear not: for I have redeemed thee, I have called thee by thy name; thou art Mine. When thou passest through the waters, I will be with thee; and through the rivers, they shall not overflow thee: when thou walkest through the fire, thou shalt not be burned; neither shall the flame kindle upon thee" (Isaiah 43: 1-2, KJV).
IF It Were Possible
You see Paul would not be deterred because God had already warned him. "And now, compelled by the Spirit and obligated by my own convictions, I am going to Jerusalem, not knowing what will happen to me there, except that the Holy Spirit solemnly [and emphatically] affirms to me in city after city that imprisonment and suffering await me" (Acts 20: 22-23, AMP).
What you must realize, as I have, is that it won't be one or the other. But both.
This is how Paul answered confirming my prayer to Jesus in the Spirit. "But none of these things move me, neither count my life dear unto myself, so that I might finish my course with joy, and the ministry, which I have received of the Lord Jesus, to testify the gospel of the grace of God" (Acts 20: 24, KJV).
Don't Conform but Be Transformed
My prayer has always been that as long as Jesus is with me, I will keep going. Otherwise, I won't go. I can't go. It is pointless.
Now pay attention. From Acts chapter 21: 20-26. They were telling Paul all of the rumors that were being spread about him. Then they told him to do this and do that so that he would be accepted by them. And Paul complied. A snare of the devil.
Does this sound familiar? Remember that there is no appeasing a devil. You will never be accepted by someone who has already made up their mind to hate you, lie, and slander your character. It is a waste of time, energy, and focus.
The Greater the Anointing, The Greater the Hate
Something else that you should be mindful of is that it won't be a few. When Satan is involved, he summons his army. If it is petty cliques, you may be able to question it. But the greater the anointing, the greater the hate.
"Then the whole city was provoked and confused, and the people rushed together. They seized Paul and dragged him out of the temple, and immediately the gates were closed" (Acts 21: 30, AMP). They were going to kill Paul.
Don't Compromise Integrity
Take these away why compromising is never of God:
1) For if we go on willfully and deliberately sinning after receiving the knowledge of the truth, there no longer remains a sacrifice [to atone] for our sins [that is, no further offering to anticipate], but a kind of awful and terrifying expectation of [divine] judgment and THE FURY OF A FIRE and BURNING WRATH WHICH WILL CONSUME THE ADVERSARIES [those who put themselves in opposition to God]" (Hebrews 10: 26-27, AMP).
2) "Elijah approached all the people and said, 'How long will you hesitate between two opinions? If the LORD is God, follow Him; but if Baal, follow him.' (And here it is!) But the people [of Israel] did not answer him [so much as] a word" (1 Kings 18: 21, AMP).
The Revelation
And 3) "Now therefore fear the LORD, and serve Him in sincerity and truth: and put away the gods which your fathers served on the other side of the flood, and in Egypt, and serve ye the LORD.
"And if it seem evil unto you to serve the LORD, choose you this day whom ye will serve; whether the gods which your fathers served that were on the other side of the flood, or the gods of the Amorites, in whose land ye dwell: but as for me and my house, we will serve the LORD" (Joshua 24: 14-15, KJV).
Let me confirm as I minister this Word for myself also. Sent by someone close to me. "Do you not know that when you continually offer yourselves to someone to do his will, you are the slaves of the one whom you obey, either [slaves] of sin, which leads to death or of obedience, which leads to righteousness (right standing with God)?" (Romans 6: 16, KJV).
Always coming from a place of love and in truth!!!
Originally written on October 10, 2023.
Schedule Life Coaching Sessions – benevolentwoman.com
Thank you, Cassandra Mack, at Cassandra Mack Ministries, for allowing me to sponsor an episode of your podcast.
https://podcasts.apple.com/us/podcast/the-cassandra-mack-podcast/id1608225126?i=1000608584809
---
---
Comments
---